Building the Future
Private development land surveyors are often consulted for disputes over where property lines lie. We conduct land surveying and boundary surveying to determine the correct location of the property boundary and help end the dispute. Land surveyors are also a crucial part of any commercial property development with our construction surveying. It is important to obtain accurate measurements and layouts when designing any type of commercial construction project. Ourcommercial surveying can help to determine these things with precision and exactness. Most commercial development projects are very involved projects that require experienced engineers and land surveyors to determine the land depth, slope, elevation or placement of utilities or drainage pipe for building purposes.
Since 2006, Spurrier Land Surveying has been in business to provide surveying services throughout the state of Kentucky including boundary surveying and construction surveying. Visit our services page to see a full list of the services we offer. Some of our services include:
Route Surveys for Transportation and Utility Corridors
Control Surveys for Aerial Mapping Rectification
As-Built Surveys
Communication Tower Surveys
Monitor Well Surveys
Wetlands Surveying
Geographic Information Systems (GIS) field data acquisition
ALTA/ACSM Land Title Surveys
Boundary Surveying ( Large and Small )
Subdivision Design and Layout
What Our Land Surveyors Do: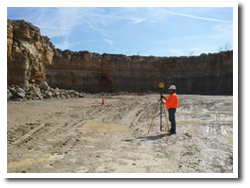 At Spurrier Land Surveying, our land surveyors will help you to save on time, money, and worry by performing land surveying and helping you solve your problem or issue. Spurrier Land Surveying researches maps, deeds, and other documents that describe boundaries with our boundary surveying and make field measurements to best determine property lines, encroachments, and easements. We can set lost property corners and mark property lines or give you a formal survey plan that shows structures.
At Spurrier Land Surveying, you can trust our team of skilled land surveyors to help you with any of your land surveying. We service Elizabethtown, Bardstown, Hodgenville, Radcliff, Fort Knox, West Point, Louisville, Shepherdsville, Boston, Lebanon Junction, Munfordsville, Upton, Sonora, Cecilia and all of Kentucky. We are highly regarded among land surveying companies statewide. If you are in need of land surveying, including boundary surveying, commercial surveying or any other survey services contact us today to get a quote on your project.