About Spurrier Land Surveying
Since 2006, Spurrier Land Surveying has been in business to provide surveying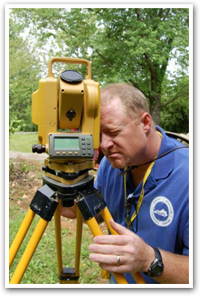 services throughout the state of Kentucky including boundary surveying and construction surveying. Spurrier Land Surveying was establish by Eric Spurrier who began his career as a land surveyor in 1995 under Raymond E. Leigh, Jr. Ky. PLS # 1776 with Leigh Land Surveys, established since 1963. Eric is a graduate of Elizabethtown High School and attended Elizabethtown Community College. Old Records from Leigh Land Surveys Est. since 1963 - 2007 are now with Spurrier Land Surveying. If you have any questions about a previous Survey by Leigh Land Surveys, contact our office for any matters we can help you with.


Associations
Professionalism
As a land surveyor we maintain a consistently high level of professional care and responsibility in each project. Your project is our project.
We conduct land surveys in Elizabethtown, Bardstown, Hodgenville, Radcliff, Fort Knox, West Point, Louisville, Shepherdsville, Boston, Lebanon Junction, Munfordsville, Upton, Sonora, Cecilia and all of Kentucky. If you are looking for a land surveyor in Kentucky, contact Spurrier Land Surveying today.